The Guardian is reporting on a federal lawsuit being handled by Budge & Heipt, involving the death of Joshua McLemore following his confinement in the Jackson County Jail in Indiana.
The entire article, which contains links to video images and photographs, can be viewed by CLICKING HERE.
From the Guardian, April 12, 2023:
————————————
Man with schizophrenia was left naked in jail cell for weeks before death, video shows
Joshua McLemore died of malnutrition after 20 days in windowless Indiana jail cell with no medical treatment
New surveillance video from inside an Indiana jail shows how a 29-year-old man who died in the summer of 2021 from dehydration and malnutrition was left naked in solitary confinement for three weeks with no medical attention.
The footage was released on Wednesday by the family of Joshua McLemore as part of a federal civil rights lawsuit against Jackson county, Indiana. The suit accuses the local sheriff, jail commander and medical staff of causing McLemore's death through deliberate indifference, neglect and unconstitutional jail conditions while he was in a state of psychosis.
Disturbing videos, some of which were reviewed by the Guardian, show McLemore as he was left in a small, windowless cell for 20 days straight in Jackson county jail in July and August of 2021. The cell had no bed or bathroom and had fluorescent lights on at all hours.
In the footage, McLemore, who was diagnosed with schizophrenia, appears detached from reality, speaking gibberish, rolling in filth and his own waste and becoming clearly emaciated. He received daily meals through a small slot in his jail door, but appears to have rarely eaten them. He had extended human interactions on only four occasions – when guards used intense force and restraint devices to drag him out to clean the cell or give him a shower.
McLemore ultimately lost 45lbs during his stay, but never saw a doctor or mental health professional, the suit says.
The videos renew scrutiny of the Jackson county sheriff's department, which faced outrage over the 2021 jail death of Ta'Neasha Chappell. Footage showed guards ignoring Chappell's cries for medical attention for hours on end, including reports she was vomiting blood. Chappell died shortly after she was taken to the hospital. Prosecutors declined to file charges in her death.
McLemore, who grew up in Mississippi, long struggled with mental illness and drug use and had repeatedly received in-patient psychiatric treatment, the suit filed by his family says. He was living in Seymour, Indiana, on 20 July 2021 when his mother, concerned he wasn't responding to her calls, had his apartment manager check on him. McLemore was found naked on his floor and incoherent, leading building staff to call an ambulance.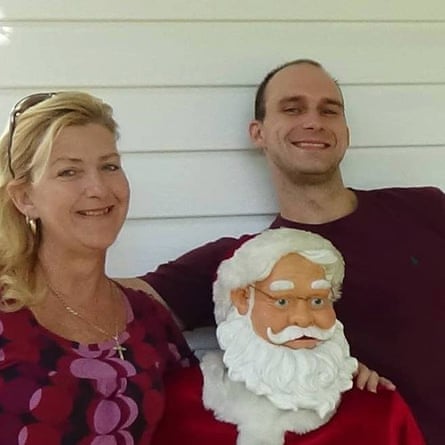 At the hospital, McLemore was disoriented and in a state of psychosis, and acknowledged he'd used meth, according to the complaint. When a nurse found him on the floor and tapped him, he pulled her hair, leading a guard to order him to his bed. He complied without incident. The guard called Seymour police, which sent four officers to arrest McLemore, placing him in shackles and carrying him out of the hospital in his underwear.
At the jail, staff skipped the booking process, conducted no medical evaluation and placed him directly in "Padded Cell 7," which was empty with nothing to sit on and no way to know whether it was day or night, the McLemore family's lawyers say. Officers struggled to put him in a smock and gave up trying to clothe him. Eventually they removed his underwear, leaving him with only a thin blanket and the smock on the floor nearby, according to the complaint. McLemore appeared severely disoriented, asking himself, "Where am I?," video shows.
McLemore's cell was connected to a bathroom, but jailers kept it locked and it was unclear if McLemore was aware it was there as he relieved himself in the cell. Footage shows him smearing feces, eating styrofoam, spilling food, staring into cameras, licking walls and spontaneously laughing.
On 25 July, five days after his arrest, officers opened McLemore's cell for the first time, the footage shows. As he stepped out naked, three officers tackled him to the ground and forced him into a restraining device with a tight harness that bound his legs and feet together and locked his hands behind his back even as he displayed little resistance. He was trapped in the restraint for more than four hours, the suit says. Later that day, staff gave him a mat, the first time he was given anything to lie on, according to the footage.
The videos show guards opened the cell again on 27 July, seven days into his detention. They pinned McLemore to the ground before strapping him naked to a restraint chair to wheel him out for his first shower, spraying him with water as he sat helplessly. The video shows two defendants in the case – Rick Meyer, the elected sheriff of Jackson county, and Chris Everhart, the jail commander – standing by.
Guards repeated this shower process on 31 July, and then left him alone again until 8 August, the suit says. That morning, McLemore didn't touch his breakfast, which a guard later replaced with lunch, which also went untouched. At 4pm, a guard gave him Gatorade, which he was too weak to drink without the assistance of a nurse. Although he was barely moving, the staff did not bring in a doctor or call an ambulance; instead 40 minutes later, they wheeled his emaciated body out for another shower.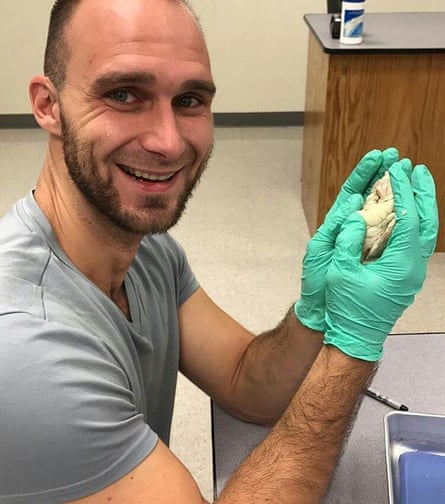 It wasn't until 6pm that evening that EMTs arrived and took him to a hospital where he was found to suffer from severe dehydration, insufficient oxygen in his body tissues, kidney failure, impaired brain function and other catastrophic health problems, according to the suit. He was airlifted to an Ohio hospital, where he became comatose, before he was declared dead on 10 August. A coroner cited "multiple organ failure due to refusal to eat or drink with altered mental status due to untreated schizophrenia".
McLemore was charged with battery, but never arraigned nor did he see a judge. As he was being hospitalized, Sheriff Meyer released him from custody, records show. A prosecutor said last year McLemore "most likely died due to a prolonged lack of attention", but declined to file criminal charges against any officers.
State law requires people in solitary be allowed out of their cell at least one hour a day, barring safety concerns and records show that McLemore was also supposed to be observed every 15 minutes. State documents show inspectors also repeatedly deemed the facility non-compliant with a law mandating jails arrange for 24-hour emergency psychological care.
Hank Balson, the family's lawyer, said McLemore's mother died unexpectedly in December, and that the family wanted the videos publicized. "There was just a callous indifference to his humanity and dignity … Some of the conditions Josh was subjected to – constant isolation, his cell being illuminated 24 hours a day, sleep deprivation – those are things we associate with torture."
McLemore's death shines a harsh light on the crisis of medical neglect and mental illness behind bars in America, where more than 400,000 people sit in jails pre-trial without being convicted.
Lita Ladner, McLemore's aunt, called the jail's treatment "cruel and senseless" in a statement. "Hopefully this lawsuit will force Jackson county and other counties to treat the people in their jails with humanity – especially people suffering from mental illness. We want to send a message that jails cannot treat people like this. We want to make sure other families don't have to go through the kind of pain our family has been forced to endure from this senseless neglect."
Sheriff's department officials and jail representatives did not immediately respond to inquiries on Wednesday. A spokesperson for the Seymour police department said in an email Thursday that McLemore "was combative throughout his stay at the hospital and transportation to the jail facility", noting he bit the car door and pushed his feet on the windshield. A police report said that "officers placed him in leg shackles to prevent him from kicking his legs at us", and noted that the department was not able to get a statement from McLemore due to his mental state.